Our Blood Bath setup is now available for rent on demand!
This bespoke horror photography studio set is made here in Toronto by the Dangerous Ladies team.
Blood bath features skulls, bones, and chains, as well as a jail cell scene with manacles, locks and keys.
 Not a fan of chains and corpses but still want that delicious bloodbath feeling? It's all removable! You can shoot with just the pool and backdrop, as well as whatever props you'd like to bring, too.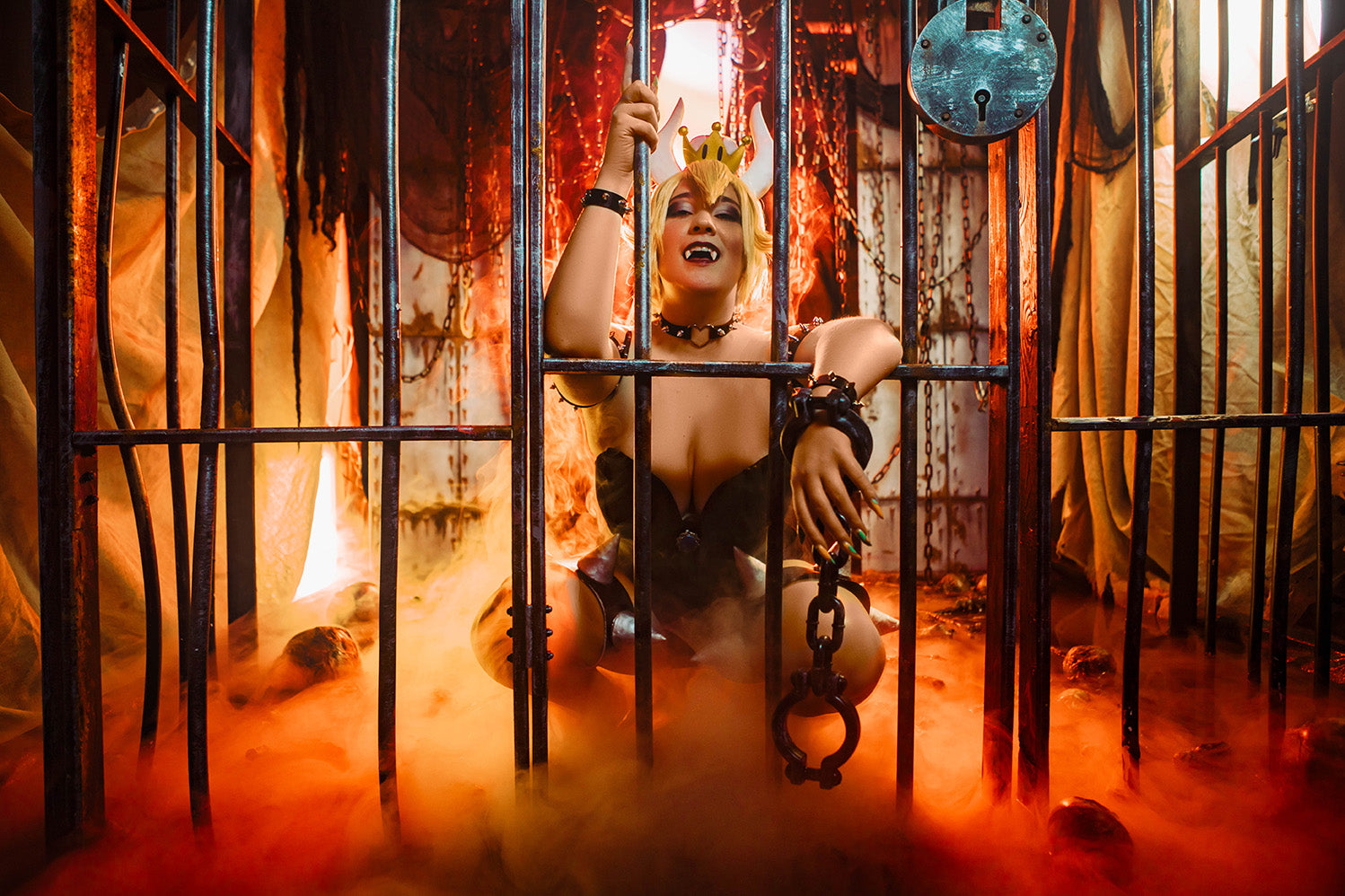 Photo Set Rental Pricing
With Basin
8x10' rectangle, 4" of water.
$750 set-up fee + $700 for each full day.*
With Pool
10' round pool, up to 18" of water.
$950 set-up fee + $700 for each full day.
Without Pool
$500 set-up fee + $600 for each full day.
*18 hrs, 6 am to midnight. Overnights available on request.
Blood bath can comfortably accommodate up to approx. 6-7 people. If you'd like to split costs between photographers or models, reach out! We're happy to arrange it.
Contact us about setting up blood bath in your own studio space.
Contact us
Rental Information
Our space is primarily a prop and costume workshop, not a dedicated photography set-up. We set up the pool on various dates for use. As such, it is not available on a whim, and must be planned in advance, subject to our availability and what we have going on in the shop.
Water will be approximately 6 inches deep.
Included in Rental
Set Components
Webbed drapes
Plastic chains
One load bearing metal chain
Pool with dyed red water
Tarps
Foam padding
Wood and Screw Canopy
Foam Backdrop Panels
Fabric drapes
Skeletons
Jail Cell
Scaffolding Setup
Fog Machine available on request and may be subject to fees
Amenities
A bit of privacy from everyone except Dangerous Ladies employees-- we're always here. ;) There are no windows that can be looked through from the ground, and the set is behind a large garage door that will be closed. The area is also pretty quiet on weekends.
1 small bathroom
table space and chairs and couches
extension cables and plugs
fans (we are not air conditioned)!
street parking
wifi
set-up and maintenance of the set
adult content-friendly space (ie; posed nudes, lewd content, bondage/shibari, kink imagery, but we prohibit bodily fluids for sanitary reasons. Please email for any clarifications.)
a first aid kit
a water dispenser
various ladders
basic lighting is available, but please bring your own equipment to suit your needs
What you Should Bring
your own photography equipment
your own lighting equipment
a towel or two
your own snacks/drinks
any props, accessories, costumes, etc.
a garbage bag / plastic bag for your wet items
sandals/flip flops/slippers; we maintain the floors but it still a shop environment, so please be careful
Rules and Safety
Please be careful with heels/stilettoes, sharp props, accessories, spiked clothing, etc. Blood pool takes place in a collapsible pool. If you rip or tear it, you are financially liable and responsible for damages.
We have separate garbage cans for food and drinks, regular trash, and recycling. These are labeled, respect the labels.
No body paint unless arranged prior/it is not submerged.
While the red pool dye will not stain polyesters, we cannot make any promises about natural fibers. For the most part they will wash out of natural fibers (sometimes leaving a very tiny pink tinge). Use your best judgement when deciding what to wear in the pool-- we're not responsible for damaged costumes or property.
Some clients with platinum blonde/bleached hair have found certain fake bloods will stain their hair; the water itself will not stain hair. 
The pool is not heated. It is quite cool; it takes a long time for cold water sitting on concrete to reach room temperature. If you are very sensitive to cold temperatures, please prepare in advance or abstain from using the pool.
The water is not chlorinated or treated.
Absolutely no electronics in the pool.
We are a working shop. We work with chemicals and machinery. Although the set is separated from our work area, photographers and models are not to enter Dangerous Ladies workspaces or interfere with work in any way - we are not responsible for your safety.
We are not responsible for your photographic equipment, lighting, camera, clothing, wigs, props, etc.
If anything is damaged or lost in or around our studio, or as a result of participating in blood pool, we are not responsible.
The studio will not be left unattended by Dangerous Ladies; someone from the team will be there to mind the space and make sure nothing goes haywire, as there is lots of machinery we can't leave unattended. We won't hover, we'll be doing our own thing, but if you need a 100% closed set, we may not be the place for you!
Clients booking are required to read and sign a safety waiver before participating.